The development and introduction by RFA of temporary traffic controls represents a further important development in improving the safety of outdoor working conditions, particularly where traffic and mobile equipment is involved.
Roadside Signs—
RFA Flexi Sign Stand II
The Flexi Sign II is a one piece fold out roadside sign available in two sizes.
One piece unit (means no parts to lose!). Simply fold out to set up. See movie (108 KB in pop-up window).
Lightweight, of strong "dura gal" steel tubing.
Stable in high winds, with anchor point.
Fixed fitting provision for Lockable E Flare™ Bracket (see below).
RFA developed roll up sign in 3M Brand material in a variety of designs and captions or customised.
Heavy duty storage/carry bag for stand and sign.
Storage/Carry Bag, containing stand and tube/sign in two display sign sizes:
900 x 600mm, 8.25kg
1200 x 900mm, 9.40kg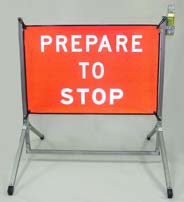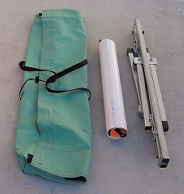 The one-piece stand and the roll-up sign store in the heavy-duty carry bag.
Signs are available in a variety of designs and captions or customised:

Note: Temporary traffic controls and signals do not give absolute immunity or protection to those operating within its designated area. It is a warning to others. Persons working in areas protected by temporary traffic controls should always be mindful, vigilant and aware of the changing environment, particularly of traffic and equipment movement in the area in which they are working.
---