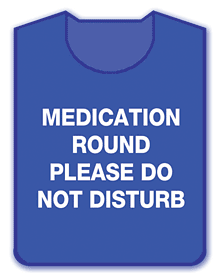 The Medication Round Safety Vest
A new initiative in Healthcare
A Safety Vest which identifies this most important activity in hospital routines. The Medication Round Safety Vest clearly identifies the person dispensing medication and drugs allowing them to carry out this essential activity, unimpeded and uninterrupted. Also available are a number of other allied printed safety vests including Triage, Doctor, Nurse and Radiologist. For more details see the section Healthcare & Allied Services Safety Vests.
---
RFA Incident Identification Clothing & Accessories
Enhancing the safety of staff and the public in the event of an incident, crisis or evacuation by having staff responsible for control of such situations recognisable through effective incident identification clothing

RFA has introduced a range of incident identification clothing and accessories to positively assist in the control and management of evacuations, incidents and emergencies. The range includes vests, tabards, armbands, hard hats and caps.
For more detailed information see the Incident Identification Clothing and Accessories section in this website.
---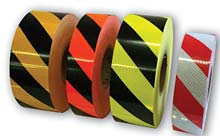 A quality pressure sensitive adhesive
Hazard Stripe

Reflective Marking Tape

used to highlight possible workplace hazards which could impact on employee safety

We are all aware of the potential hazards which exist in a broad range of working conditions such as factories, manufacturing enterprises, mining operations, warehousing, distribution and service centres and agricultural activities.

RFA Hazard Stripe Reflective Marking Tape is a high quality reflective pressure sensitive adhesive tape which has the ability to visually highlight potential accident prone areas and situations to assist in improving employee safety. Importantly because of its reflective character RFA Hazard Stripe Marking Tape provides day/night protection- reflective colour during the night and hi-viz during the day. The tape is available in three grades to meet specific situations.

For more details see the Hazard Stripe Reflective Marking Tape section in this website.
---

Introducing the
new
"breathable"
reflective tape
for workwear and safety clothing, developed for hot, humid and uncomfortable working conditions.

RFA "breathable" reflective tape:
Perforated to allow better ventilation
Lightweight
Available in both standard and industrial laundry wash qualities
Base reflective material is from industry leader, 3M Reflective Silver Transfer Film
Significantly improved wearer comfort where working conditions are hot and harsh, while still maintaining the visual safety of the garment
Compliant with AS/NZS 1906.4 1997
A major safety clothing development for hot and humid working conditions such as mining, traffic management, outdoor workers, transport operators, stevedoring and agricultural workers.
See further details on our new "breathable reflective tape.
---
RFA Special ADD-ON Clothing Services
RFA's special service in adding safety features and identification to existing garments and clothing
Screen printing, adding reflective lettering and tapes, and combining screen printing outline with reflective lettering can be added to existing garments such as wet weather coats, safety vests, polo shirts, windcheaters, jackets and workwear.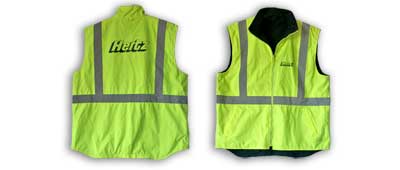 See further details on our Special ADD-ON Clothing Services.
---
Reflective materials in continuous rolls to meet your specific manufacturing requirements.
RFA can supply 3M Brand Scotchlite Reflective Materials in rolls to suit your specific manufacturing requirements. They may be screen printed, computer/die cut to text or text logos. Reflective materials are available in both light industrial wash and full industrial wash. More details in Bindings, Pipings and Trim.