Medication Round Safety Vest
We are all aware of the pressures put on nursing staff to meet their duties and daily routines. Often called away from one patient to attend or assist with another. However the dispensing of medications and drugs is, in itself, a singularly important activity requiring continuous attention.
SO NOW…. The RFA Medication Round Safety Vest.
A safety vest which identifies this most important activity and allows the wearer unimpeded and uninterrupted processing. A simple visible and important resolution to an issue common to hospital procedures and ultimately advancing patient safety and care. The Medication Round Safety Vest is an important visual recognition for staff but also patients and visitors.
Product Details
A poncho style over-the-head fitting, with side fastenings at the waist
Size: One universal size
Base material: polyester fabric
Standard colour: blue (other colours are available although conditions apply)
Printing: embroidered message front and back MEDICATION ROUND PLEASE DO NOT DISTURB
Optional print formats available for company/ institute/ authority name and logo are available including personalisation
Washing Options: domestic and industrial wash compatible
Individually packed in poly bags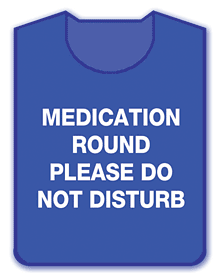 "Research has shown that the introduction of Medication Safety Vests will act as a visible outward sign, reducing distractions for nursing staff administering medications."
— Queensland Health,
It's in your Vest Interest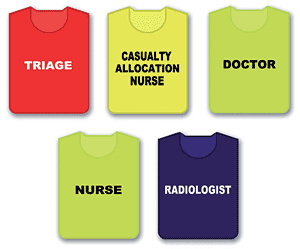 Other Vests in the Range
RFA also manufactures a range of other healthcare and allied services safety vests.
Healthcare Services
Triage
Casualty Allocation Nurse
Doctor
Nurse
Radiologist
Allied Services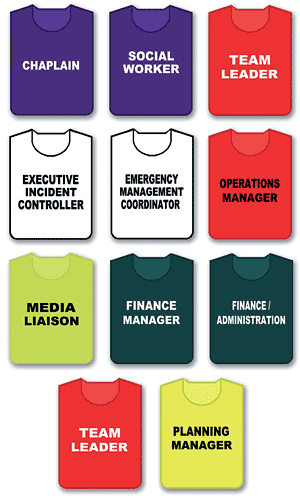 Chaplain
Social Worker
Executive Incident Controller
Emergency Management Coordinator
Operations Manager
Finance Manager
Finance/Administration
Media Liaison
Team Leader
Planning Manager
Logistics Manager