Arm, Cap & Helmet Applications
RFA provides a customised service in the supply of both arm and cap badging and identification. Many of these seemingly simple products add another element in providing a higher level of personal safety to the wearer and greater awareness and visibility to motorists, to other employees and equipment operators.
Brazards in both reflective and plain lettering can be made to specific client requirements.
Cotton fabric
One size fits all
Range of colours
Can be personalised

Double sided/reversible gauntlets or sleevelets provide the wearer with enhanced visibility, particularly where directing traffic in a busy or crowded incident situation. Bright reflective at night and high visibility fluorescent during the day.
Photoluminescent/reflective ID armbands provide quick recognition as does reflective ID badging and lettering for headware.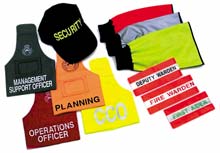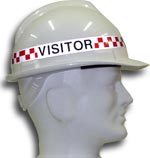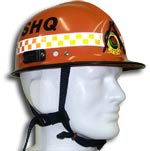 Title Badges & Panels
RFA provides a customised title badge and panel service. Current applications include "Bluey" coats and jackets, shirts, fire fighting apparel and safety vests and pvc backing for wet weather gear.
The majority of badges and panels are cut from 3M Scotchlite heat transfer films, bonded to cotton drill, backed and overlocked. Also available hook-and-loop backed and also for permanent heat seal applications.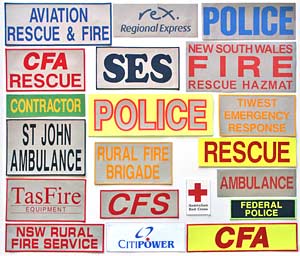 3M Scotchlite reflective materials or heat transfer films can be screenprinted to individual customer requirements. These processes are particularly applicable to safety vests and wet weather gear.
For further information, queries and a quote call RFA direct.