With its Australian based design and manufacturing operations, RFA is well resourced for the production of customised safety vests. Increasingly organisations are taking advantage of our experience and services in the production of safety vests to produce a high quality product, customise it to meet an organisation's special requirements and provide a strong corporate identity.
And in designing a corporate garment, RFA ensures the essential aspect of the product—the safety factor—is not compromised.
Provision for security cards with a clear ID pocket and corporate logo.
Distinctive colour combinations provided they comply with AS/NZS standards.
Provision for badges with titles and departments/divisions.
Choice of base fabric from cotton drill, "Proban" cotton drill and polyester and a range of reflective and retroreflective materials.
Manufactured to meet specific usage requirements, day, night or a combination of day/night.
RFA Design Team can make up samples from your specifications, they can be trialled in actual operating conditions, any modifications made, and go into production when approved.
Our long experience in the safety industry is your guarantee of a product which is not only eminently wearable and highly visible but also meets the AS/NZS standards.

Garments can be packed in individual resealable plastic pouches for convenient storage - at additional price if required.
Be seen by day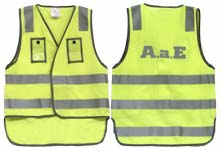 . . . and by night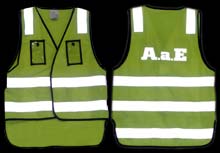 We customise vests & tabards to suit your needs