RFA has specialised in the development and manufacture of incident and emergency response safety vests and is a major supplier to the Australian market. These safety garments have been developed in close collaboration with 3M, a world leader in reflective technology, and with customers in meeting very specific product requirements.
RFA Incident and Emergency response vests are designed and manufactured in Australia to individual customer requirements. They incorporate the standards AS/NZS 1906.4 (Retroreflective material and devices for road traffic control purposes Part 4 High visibility materials for safety garments)and AS/NZS 4602-1999 (High visibility safety garments) and incorporate the latest technologies in fabrics and manufacture.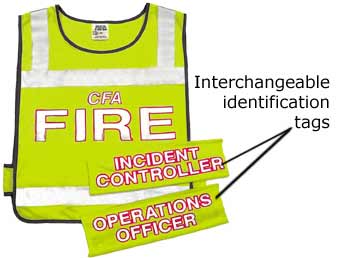 The safety vest which has proved most popular is where the garment is fastened at the front flap, allowing the vest to be put on and taken off without the need to remove protective headgear. The tabard is a one piece "over the head" safety vest, fastened at the sides. The garments in the illustrations show the variety and customisation for a number of the emergency services.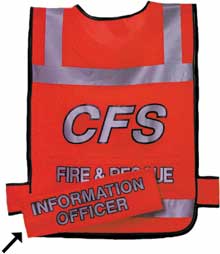 Removable panels allow for the application of different titles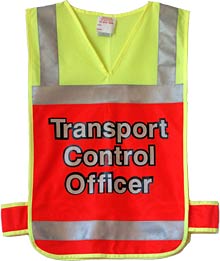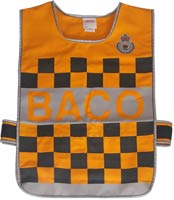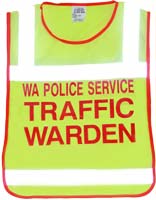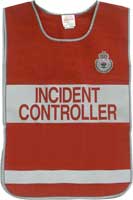 Product Specifications
Fabric
cotton drill
"Proban" cotton drill— a proprietary name for a fire resistant cotton finish,
polyester— light weight, 100% flame retardant, anti-static.
Reflective material—Scotchlite reflective material 8725 silver transfer film is heat laminated onto the garment.
Colours—available in a range of colours which meet the appropriate Australian Standards.
Laundering—see Garment Maintenance
Sizes—Garments are made to an industry standard from Small to XXX Large or to a customer's special sizing requirements.
Added & customised features—RFA Design can assist in development and refinement of garments for safety, visibility and identity of the service and individuals.
Note: Performance
Whilst RFA safety vests, incorporating 3M Scotchlite Reflective material, provide enhanced wearer visibility no reflective material can guarantee absolute visibility, particularly in adverse weather conditions.
Performance will vary depending on actual use, actual working environment and condition of the garment. Users should always recognise the situation in which they are working and take appropriate care.